Collaboration with Pete Seeger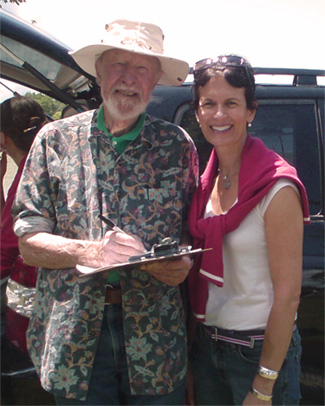 On June 14th, 2009, I finally met with an American hero that I've admired since my childhood—Pete Seeger! Having corresponded by mail with Pete concerning a Foreword he kindly contributed to my children's book,
When the Wind Blows
, speaking with Pete personally as he re-read his Foreword and made final editorial changes to the copy was a thrill. Here, we're standing along Pete's storied Hudson River, as musicians at Beacon, New York's Annual Strawberry Festival take to the stage.
As Pete reviewed his Foreword, he commented to me smiling: "You know what Carl Sandburg always said…Be wary of adjectives!" Signing his edits, Pete included a quick sketch of his iconic banjo to make it official.
Sandburg, greatly admired by Seeger, wrote: I see great days ahead—great days possible for men and women of will and vision. How appropriate these words are when one considers Seeger's most recent environmental endeavor—the
Clearwater Center for Environmental Leadership and Justice
.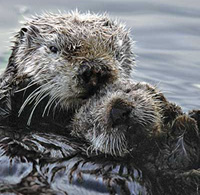 environmental marine blog for students and families
The summer of 2008 involved scientific research and the creation of the online journal and blog,
www.earthwatchkids.net
. Awarded an Educator Fellowship by Earthwatch Institute to study marine mammals in Monterey Bay, California, my summer adventure included pre-dawn monitoring of sea otter activity in Moss Landing, a fishing harbor located south of Santa Cruz. Our team traveled "up river" to count the number of female otters nursing their pups in the protected estuary known as Elkhorn Slough, conducted round-the-clock GPS surveys of otter activity, so we could better track and compare information collected over a ten-year period, and during morning and evening foraging periods, recorded the size and number of clams that the otters consumed.
Published Writer
As former director of
Youth Editorial for E/The Environmental Magazine
(the largest independent non-profit environmental publication in the U.S.), I published Earth
Beat
, an environmental newsletter for children. Created the
ESD Explorer
, an environmental newsletter for elementary school children and their parents. Contributing environmental writer to UK business journals, including International Corporate Law, Finance North, The Estate Agent, and the Yorkshire Post.
Feature article concerning the high cost of insuring against environmental risks and the development of specialist insurers to cover this growing sector