About Dallas Writer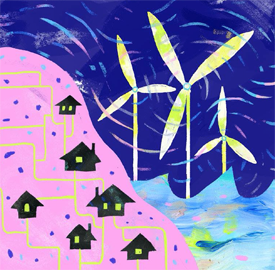 An
environmental geologist
, educator and
writer
, I report on clean energy technologies and communicate big ideas for young and old alike. I
teach
environmentally-focused units to school children and enjoy promoting "
When the Wind Blows
" (Holiday House, 2015), my rhyming, renewable energy kids' adventure (which has included gorilla-style marketing deliveries of the book to Google, Apple, Lyft and Starbucks offices, only one of which was returned unopened).
Previously, I was a field scientist, taking a lead role in assessing and reporting the human health risks associated with industrial land in New England and the UK. In 1994, the
Co-operative Bank of Manchester
, England hired me to create a lending policy aimed at reducing their exposure to high risk properties and potentially costly lawsuits related to contaminated land. The presentation of the plan across England and Wales was notable owing to my pending pregnancy (my now 23 year-old son and Microsoft coder, was born a week following the tour).
Major influences leading to this ten-year career were a Harvard University School of Public Health internship, where I contributed as a researcher and writer on an EPA-funded study of town well contamination in Woburn, MA (a 1982 Superfund site) and my internship assisting Earth Science students at Stanford University model solutions for protecting fresh water aquifers in California's Salinas Valley.
During the 2010 BP Oil tragedy in the Gulf of Mexico, I began my role as a blogger for Energy Boom, and, later,
The Huffington Post
, focusing on the human, economic and climate consequences of fossil fuel exploration and consumption. One memorable interview was with Billy Nungesser, the charismatic, highly vocal former president of Plaquemines Parish (now LT Governor of Louisiana), whose public presence in the wake of the Deepwater Horizon drew sustained media attention to his coastline community. I continue to interview experts and report on clean energy, particularly wind, solar and wave power.
Folded into my education and communications career, I helped launch a start-up (
inkubate.com
) for authors interested in analyzing their writing style and developed creative content and a social media strategy for a new and now 5 star-rated beach resort (
Humhappy.com
).
Graduating from Skidmore College in 1984 with a degree in Environmental Geology and a concentration in Environmental Economics, I later received my teaching credentials from Southern Methodist University's School of Education. I'm a member of the
Society of Environmental Journalists
, the
National Association of Science Writers
and the
Society of Children's Book Writers & Illustrators
.
Contact me at
StacyDallasTX@gmail.com
.